As dog owners and lovers ourselves we understand how important it is for you to find somewhere to stay that welcomes your dogs and we brought Rill House with ours in mind and we know yours will love it as much as they do!
What one of our guests had to say about Rill House
"It was fantastic to take the dogs on holiday and stay in such a beautiful property and furnished to a high standard. Thanks for sharing your stunning home."
We welcome unlimited dogs of all breeds to stay and delighted to have been recognised by VisitEngland for being dog friendly


We welcome dogs in every room in the house and on the sofas with your throws, all we ask is that they do not go on the beds. Please do not leave them in the house alone, after all, they are on holiday as well. 
Our garden and courtyard are fully enclosed (if you have any queries please do contact us either via our Facebook page or our contact link on here as we understand you want to be sure).
We know that dogs can 'take a wrong turn' sometimes when they are somewhere new so for your peace of mind we loan you these dog tags to add to your dog's collars during your stay.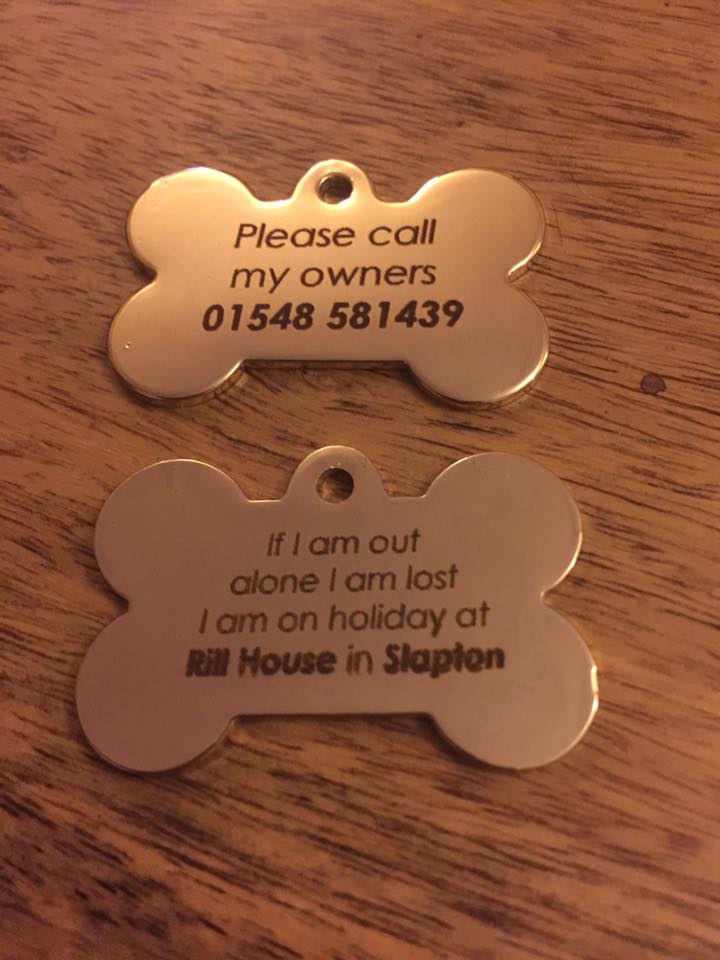 We have two village pubs both a short stroll from the house that welcome dogs and serve great food, the South Devon region is well known for how dog friendly it is, and nearly all the local pubs, cafes, restaurants, and shops welcome dogs. Do take a look at our local area section in our guide book 
Our local beach is just half a mile walk/drive from the house, 3m long and dog-friendly all year round we are spoilt for choice with dog-friendly beaches do take a look at our beach section in our guide book We love to see photos of your dogs on holiday, please do share them with us so we can add them to our Guests' dogs album.
Our dog charges are £25pw for up to 2 dogs then £25pw per dog for each additional dog up to 5 dogs and no additional charges for any further dogs, so capped at a £100 max.

There are no charges for assistance dogs, current or retired Police, or Military dogs, contact us for more details.