Booking your holiday directly with an accommodation owner and worried about being scammed...
March 10. 2023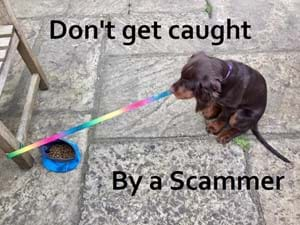 Honestly, it makes me so angry when I see guest posts on social media about being scammed when trying to book a well-earned holiday. Or booking accommodation that clearly is not being run professionally/safely.
We have been letting multiple dog-welcoming holiday homes in South Devon for 16 years now and So I have pulled this guide together in the hope that it helps.
Is it a 'business' profile advertising, how old is that profile? If it is recent that can be a warning sign. I know all businesses start somewhere but combined with other warning signs it can be a good indicator.
Is it a personal profile advertising, how old is that profile? If it is recent that can be a warning sign.
There is no link to either a Social Media page/profile or website, there may be multiple 'excuses' as to why they don't but a Business Social Media page/profile is free to set up. Excuses such as 'we are just setting it up/it is new to the market etc are all warning signs. If they are selling you a holiday as a business why are they not running it properly?

If there is a Social Media page, when was it set up? Is it recent? How many posts are there? Do they seem very impersonal?

No reviews anywhere, or any comments on any of their posts from previous guests.
You have been contacted by the accommodation 'owner' by an unsolicited DM, if they have nothing to hide why are they doing it in private?
If you get as far as paying check the name on the account is what you expected it to be.
What can you do to check the property is what it is being 'claimed' to be?
Does the price look 'too good too good to be true'? Have a look at similar properties in the area and compare prices, if they are much higher then why? Again this linked with other signs may be a warning.

Sadly the press has decided that holiday homeowners are all 'greedy' and charge too much, a professionally run holiday let is not cheap. If the reason they are giving is that they are 'not trying to fleece' their guests or similar it sounds like a scammer or someone who is not running their accommodation professionally.

Ask to see proof of ownership e.g. an insurance policy or copy of their last PAT testing (electrical appliance testing) both of these are a legal requirements for a holiday let. They must not be taking bookings without those, no excuses.
Ask to see a copy of their booking conditions, access statement, and fire risk assessment these must be available for you to see before booking.
Find their phone number and call them, and ask them questions about the house and the local area. The answers should be immediate, and they should be knowledgeable. At a minimum, they should know where the nearest places to eat are and whether they are dog friendly. Check those details on the internet.
Ask for their email address, does it look like it is professional and belongs to that accommodation?
Look at the photos of the accommodation and do a Google reverse image search. Do they match the accommodation listed?
Do a Google Map Search is the accommodation where they say it is? 
What documents and equipment should a professional holiday let provide?
This is just a selection, not a definitive list as the legal requirements change. A professional holiday homeowner will be happy to let you either have the link to or provide a copy of these documents. So why do I care I hear you ask…. If an accommodation provider does not have the correct safety equipment and assessment in place it is you and your fellow guest's safety that is at risk. Better safe than sorry.
Fire Risk Assessment
Smoke and CO2 detectors correctly installed and maintained
Fire extinguishers and fire blankets in the correct locations
Up to date Electrical Installation Condition Report (EICR)
Access Statement
PAT testing certificate
Specialist Holiday Home Insurance