Holidaying with your dogs
March 10. 2023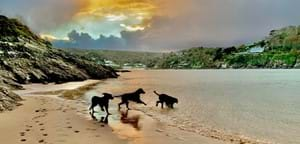 I saw a statistic that said dog ownership in the UK has increased by 11% in the last 2 years, given we are a nation of dog lovers already that is a huge increase. So it got me thinking that there will be thousands of dog owners holidaying with their dogs for the 1st time ever. 
We have always had 3 big dogs and having had dog-welcoming holiday homes for the last 16 years these are some of the things I have learned.'
Dog tags This may sound daft till I explain, but we all know it is a legal requirement for your dogs to have a tag. You are going to a new area that neither you nor your dogs know and they have been known let's face it to take a wrong turn on a walk sometimes and lose you. Just take a quick look to make sure your mobile numbers are correct and not worn off, your home number is no good when you are not there!
Check where you are staying has a mobile signal, if your dog does lose you and you have no signal where you are staying how can you be contacted? If they is not do they provide dog holiday tags like ours? Rill House the mobile reception is patchy so we have installed a landline and put that number on our holiday dog tags for there.

If they don't provide tags and there is not great mobile signal think about getting a 2nd tag made simply saying on holiday at xxxx with the address. Better safe than sorry. 
The dreaded car packing, so now a load of space you would have had your dog(s) are now in and you have all their stuff to pack as well... Our dog baskets at home are huge so we have slimmer 'holiday' baskets for them that can squish into a smaller space in the car.
Food, esp if you are a raw feeder can be problematic to pack to say the least in terms of space. So do a bit of research as to a local dog food supplier you can order from in advance and collect when you arrive. We have done that research already for our guests, have a look at our online guide  
Dog toys, we just take a few favourites as most of the time they are so tired from all the fun they have been having they don't want them as much as they do at home.
Dog bowls, some accommodation providers like us have dog bowls for you to borrow if you forget yours but you may wish to take your own. We always take ours even to Whitebeam. Pack them on top where they are easy to get to, we have forgotten to do that a couple of times and it is so frustrating! The first thing ours want when they arrive or on a stop on the way down is a drink and unpacking the whole car, or so it seems, to find a bowl is a pain and a half!

Dog towels, if your accommodation has laundry facilities you may get away with just taking a couple, some accommodation will also provide dog towels for you to borrow, we certainly do. 
A spare dog lead, I know it sounds silly but if a lead breaks on holiday as they sometimes do, the last thing you want to do is spend time trying to find a new one. 
And you are off! Car packed, everyone in and ready to go, have you thought about where you may stop for breaks if you need to? A little bit of research can make all the difference with dogs. We always suggest Gloucester Services on the M5 to our guests as they are really dog welcoming, there is even a dog walk. Do pack some water for your dogs as well in case you do get stuck in traffic esp if it is warm, and it helps you have packed dog bowls where you can find them. 
Vets now we all hope your dogs are never ill but if you are not at home near your vet and your dog becomes ill it helps releave some of that stress if you have a local vet's details preferably in your mobile. We strongly suggest that our guests add our local vet's details in to their phones as they will happily take visiting dogs even in emergencies.  


Health issues to be aware of different locations and experiences can bring different issues that you may never have even been aware of, ie excessive drinking of saltwater. Take a look at some of the other articles in my blog as I cover issues like that and signs to be aware of. 

Most of all enjoy! Taking your dogs on holiday is such fun, as they are part of your family, and watching them experience new things will make life-long memories.